Author, speaker and teacher Nicole McInnes joins us today to answer three questions on her publishing journey. Since her strong debut in 2013 with BRIANA ON THE BRINK, Nicole has been hard at work on a new book which will be released in August 2016 but is available NOW for pre-order!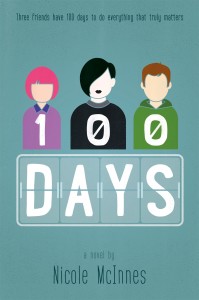 100 DAYS (Farrar, Straus and Giroux/Macmillan, 2016) is the story of three teenagers struggling to maintain their friendship under the strain of their own personal burdens. Each character is uniquely compelling. One, who gives the title to the book, suffers a rare genetic disorder which has left her with only 100 days to live. An early reviewer had this to say of 100 DAYS:
"McInnes writes with steady ease, and she brings great wit, humor, and warmth to supplement the hardships of her teens as they persevere to find themselves and understand each other."
So I asked Nicole:
If you could go back several years to give advice to your pre-published self, how far back would you go and what advice would you give? How might that advice change where you are, or what you're doing, today?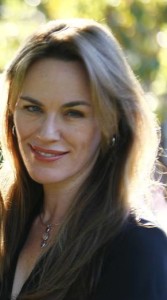 I would go all the way back to my sophomore year in college, when I decided that I really wanted to pursue a career as a writer. I'd tell myself in no uncertain terms that the journey toward traditional publishing is a long game (longer for some than for others). I'd tell myself to think in terms of decades rather than years and to not give up on the goal, even when I felt like I couldn't take any more discouragement. Hearing this advice from my future self might have allowed me to breathe more deeply during the tough times and to have more peace about the publishing process, which often unfolds at an excruciatingly slow pace.
Writing can be a lonely business with a lot of ups and downs. We all deal with bad reviews, manuscript rejections, changes in the industry, etc. How have you coped with the stress? Do you have activities, or friends, that have been particularly helpful?
I am a firm believer in the restorative powers of chocolate, yoga, meditation, music, hiking, sleep, and time spent in the company of kids and animals (not necessarily in that order). Having a "pit crew" of friends, family and fellow writers who have been there helps tremendously as well when it comes to publishing-related stress.
Is there anything you've learned since becoming published that's particularly surprised you about the industry or the experience of being a published author?
I have been surprised by how much of a published author's life is spent on non-writing activities such as promotion and connecting with readers and industry professionals. Also, for those who don't (yet) make our livings as writers and don't have benefactors (and I daresay that's most of us), it can be a shock to realize how tough it is to maintain a non-writing career and other life responsibilities (such as raising children) while continually trying to write new books.
I have to second everything Nicole said about the publishing process, especially the glacial pace and the importance of finding support from other writers. I'm also a firm believer in the value of furry supporters, though I'm a little jealous that Nicole's regular animal companions include horses! 
Thanks to Nicole for being the first Lucky 13 author in our interview series. Next we'll hear from author Cat Winters. Cat debuted in 2013 with the multi-award-winning IN THE SHADOW OF BLACKBIRDS, a historical thriller that will haunt you in more ways than one!